Okay. Now let's do TV shows. There were a lot of good shows this year, but after several years of The Expanse being something that I adored, I feel like none of these shows really fit the bill. And it's true that I could keep The Expanse in the list, as its last episodes aired this year, I mentally think of it as something from last year.
Anyway, here are my top five TV shows and a handful of also-rans.
Number 5: Yellowjackets. My friend, kalmn, categorized this, approvingly, as "grim, grim, grim and also lesbians." And, yeah, that's probably not inaccurate. Yellowjackets is a show that takes place in two time periods. In "the past" — the mid-90s — an airplane carrying a team of high school sportsball players ("Yellowjackets" is the team name) crashes. We learn (in scenes set in the present) that the kids were stuck in the wilderness for 19 months, and we know from the creepy opening scene that things go bad and there's ritualistic cannibalism. But beyond that opening scene, we mostly don't see the past storyline being too horrible (just horrible enough). In "the present" — essentially the current day — we follow four of the survivors, now adults. We're clued in pretty early that although they were eventually rescued, they mutually agreed to a somewhat light-on-details story of how they managed to survive. One of the survivors is Misty, played by Christina Ricci, who is upbeat, cheerful, super resourceful but also clearly a sociopath. And as much as the other three adult survivors want nothing to do with Misty, Misty is not the sort of person who doesn't get her way. Through the first season, we get to see the slow devolution of the community of high school students stuck in the wilderness. By the end, things are becoming bad but it hasn't gone too far off the rails. But, like I say, we've had a peek at how bad it ultimately becomes. In the present, we're seeing that none of the adult survivors are in a good place either. And there are lots of other characters from the past that we don't know anything about: did they survive? Did they get eaten? It's similar to the Amazon Prime series, The Wilds, but I enjoyed Yellowjackets a lot more.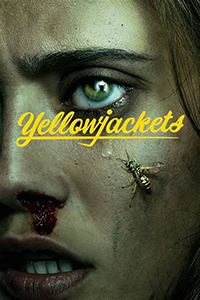 Read more