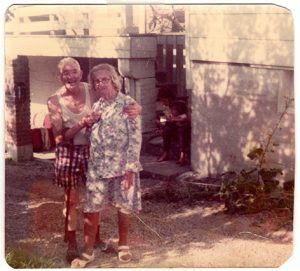 Some time ago, I was pinged on Ancestry by a distant relative who was happy to have come across portions of my family tree that overlapped with her family. I try to always respond to folks on Ancestry; I've almost-always had good experiences there. My correspondent was much newer to genealogy than I was, and was therefore able to quickly learn a great deal about at least one line of her family.
She was a descendant of my great-grandmother's brother. It's a line of the family that I don't have very deep records about. My info basically ended at her grandparents. But it was still helpful to her.
So, that's cool. But because of that recent interaction, I found myself poking that part of the tree again. I located a picture of her great-grandfather, Alton Carol "Al" Kehoe (with my great-grandmother, Mary Ann "Mae" Houle), as well as an obituary, and uploaded them, then sent her a note with links.
But that's when, all of a sudden, I noticed an unexpected hint that Ancestry was suggesting that I look at. The hint was a marriage record from Ohio, and I was originally inclined to dismiss it because this family lived in Port Lambton, Ontario. It's not uncommon for my ancestors to get married in Michigan, but Ohio? On the other hand, Alton Carol Kehoe is a pretty unusual name, and I couldn't overlook that.
According to the marriage record, Alton Carol Kehoe was marrying Rose Skeens on 10 Dec, 1927, in Ohio. Who was Rose Skeens? I'd never heard of her before.