Tag Archive for toronto comics anthology
The first volume of the Toronto Comics anthology has been nominated for a Gene Day Award for self-published (Canadian?) comic.
I'm starting the art chores on a new comics project, and I'm finding process to be an interesting thing to think about. First thing I did was spend a few hours putting together a template.
The page size for this project is different than the page size for the last project, so my template from that project doesn't fit. Unlike the last project, this time, the book's editors distributed a template, with page size, bleed and trim. And it's just fine, but it has text and stuff on it, and I want something cleaner.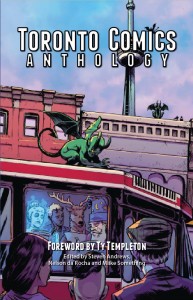 Back in, like, April I heard about a gang of folks in the Toronto comics scene who were gonna get together to make a comics anthology. Most of the people involved — maybe even all of them — had been through Ty's comics classes, and folks wanted a nicely-printed collection to showcase our work. So we chipped in on printing costs and accepted a unifying theme ("Toronto!") and then rolled up our sleeves.