I've been seeing all the plaintive Facebook updates that Keiren Smith has been making as she's been doing the work-intensive assemblage of the final Holmes Inc., 4 book. If I've been following her updates correctly, it looks like she tipped over, caught fire and sank into the swamp. Or something. But because she's awesome, it looks like the book is going to be ready in time for Fan Expo this weekend.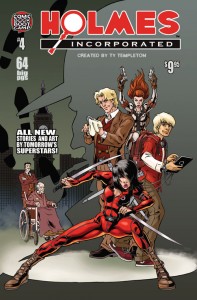 What I was really interested in was seeing the cover, which was just posted at Ty's web site. I've been kinda eagerly anticipating the cover for weeks, now. Except it appears that there's a new wrinkle: there are gonna be two covers. It looks like the book has been split into two issues (4a and 4b?). So another cover is coming out tomorrow. And tomorrow is also the start of Fan Expo. w00t!
If you follow that link to Ty's post, you can see some of the initial pages of the different stories. A wide variety of styles (both in terms of the art and the story) are on display. I haven't actually read all the stories (although I've been able to see the art arrive week by week) so I probably shouldn't play favourites, but I do have a bit of a soft spot for Kathleen's and Christopher's piece. Each story has a nifty selling feature, but theirs really gels in a way that appeals to me. I mean, how can you not love evil morris dancer goons? Christopher made them look a bit like Alex's droogs, too, so that's also adding a bit of colour.
Christopher's art has been in every issue of the book to date, so it's not all that surprising that he's got a strong handle on the visuals. It's interesting to see how his style has evolved over the years — and, for my part, I find it interesting to see how the volume of black in his pages has increased issue after issue.
Kathleen's story is also nicely assembled. I'm fascinated by how economically she uses her panels. She starts off right at the most interesting part of the story; she has interesting and colourful villains and (if you read the story) there's a nice core element of how this family helps each other that underlies the action-based exterior. Her story is about as different from what I write as is possible and yet it charms me.
I think this story's opening page also provides a good first page of the comic (it's all about convincing the reader, quickly, that they want to pony up their hard-earned cash!). There were three really strong openings (interestingly action-y and with a nice big first panel) in my opinion:
Chris' evil morris dancers surrounding Number Two;
Edgar and Elizabeth jumping out of a Holmes Inc jet; and
Ryan being shot in the leg by the evil adversary.
I predict that one of those latter two will be the first page of the second book.
I also don't want to undersell any of the other stories. Everyone had some really interesting strengths. I was personally quite fascinated with how polished Matthew's art was in all stages of the artwork — his thumbnails, for example, were really quite tight. (Put me to shame, fer sure). Daniel's story is one that I haven't actually read (although I have a pretty good idea of the overall shape of the story from the art), and I'm looking forward to reading it in its final version — it seems like a nice character piece. Jason designed about a bajillion monsters (a metric bajillion, not an imperial bajillion). And it's interesting how Kevin's really trying to explore how far along the horror scale he can take the Holmes Inc concept.
I'm, of course, most familiar with Tuhin's stuff, as we worked closely together. I really like Tuhin's use of blacks and a darker palette. And Tuhin's story is also much more emotionally pregnant than any other piece, I think. I've said before that I think his writing is touching on very different beats compared to everyone else. In his story, the villain-of-the-week plays a very minor role compared to how he constructs the emotional texture of the scenario. It's interesting.
And there's gonna be some great stuff in the pages that Ty will probably post tomorrow, too. I'll comment on those then.