I'm continuing to pour a lot of my creative energy into comics. I've had a few things going on in that world.
First up, I've taken part in the third volume of Toronto Comics (the book seems to have dropped the "Anthology" part of the name). I wrote a story this year — "Lofty Aspirations" — but didn't draw it. Instead, it was illustrated by Xan Grey, an amazingly talented artist, who's been in the last two anthologies.
The Toronto comic creator community is fascinatingly tight-knit. I first encountered Xan in a page layout class (taught by Leonard Kirk) back in the now-defunct Toronto Comics Workshop. I remember being impressed by how naturally he'd slip in to low-angle shots. I bumped in to him again in Ty's inking class.
Anyway, as the Toronto Comics editors were helping assign artists to stories, Xan and I both swiped right and I'm just so happy with the art he turned in.
Steven Andrews (@cardboardshark) is fascinatingly organized about getting promotional material for the book, and one of the things he commissioned was a set of cutesy character buttons as Kickstarter rewards. Included in the bunch is "Gwen", one of the characters that Xan and I created. She's down in the lower left, looking up supervillain details on her mobile phone.
With 24 hours to go, we're just $300 short of our second stretch goal! Adorable character buttons could be yours! pic.twitter.com/FhoyoRy82f

— Toronto Comics (@TorontoComix) March 31, 2016
So that was kind of neat. My first merchandising swag!
The books are being printed now, and should be in my hands in a week or so. It officially launches at TCAF.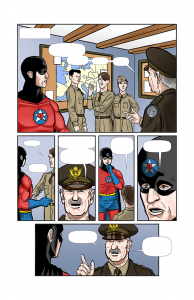 I've also been back in classes. George Brown, where I got my cartooning certificate, started offering a new class — a sort of "senior project"-style class called "Advanced Cartooning and Illustration: The Graphic Novel". Basically, they let you determine your own deliverable. I have a couple of goals. First, I've had a story in the back of my head for a while that I wanted to do something with. It's about some comic book characters that have fallen in to the public domain. It's a period piece, set primarily in World War II (when those characters were originally published), so I've ended up spending a weird amount of time researching things like army uniforms.
My second goal was to develop some skills with digital colouring. I've never been terribly good at colour — there's a whole lot about shading and working with light that I just haven't been terribly good at. But I wanted to get better, so that's something that I'm looking to improve.
Digital colouring is such an interested thing, primarily because there seems to be so many different techniques. If you look at, for example, Questionable Content, Jeph uses a fairly simple "local colour plus shading" approach. You also see this approach in, for example, DC's animated shows: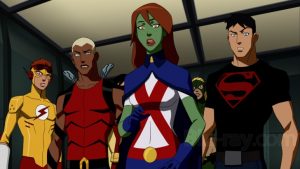 Then on the other extreme, you have people who do full digital painting, although that's pretty rare for comics, except maybe for covers.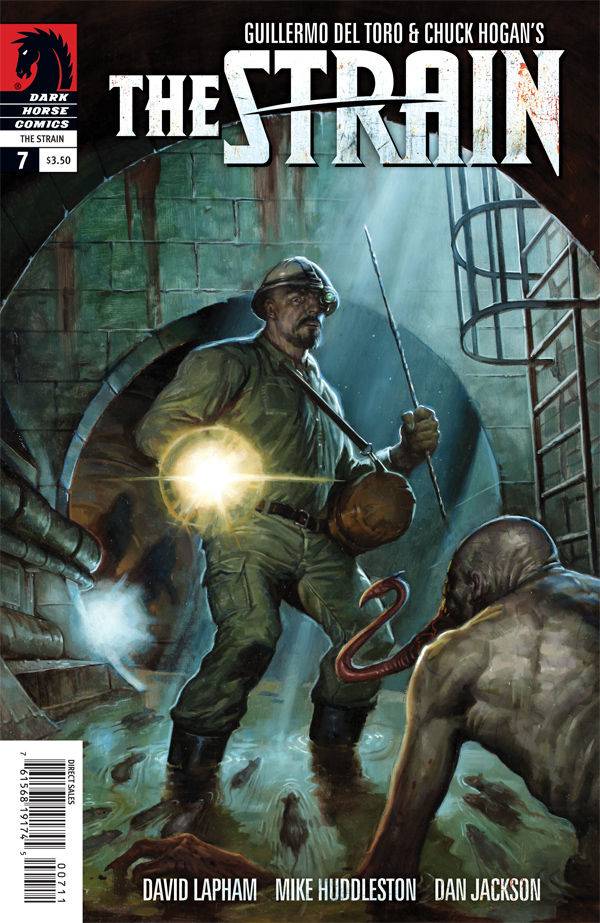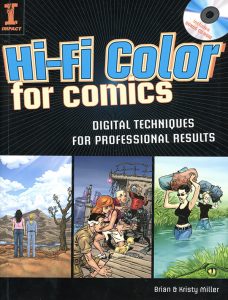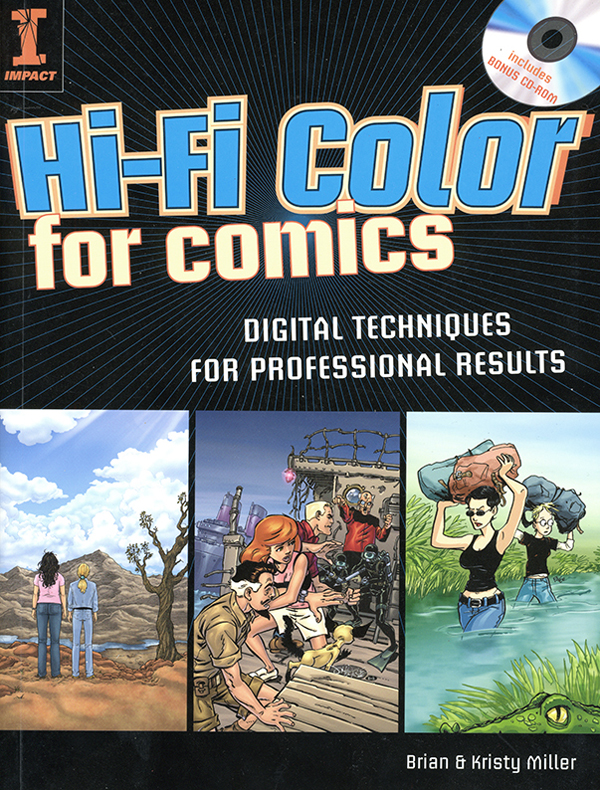 I think the most commonly taught method for digitally colouring comics is the "flat and cut" approach, possibly best-documented in Brian and Kristy Miller's book Hi-Fi Color for Comics. This seems to be the approach that a lot of established companies use these days.
Here's an example of the flat and cut approach:
Here's another example of the flat and cut approach, with an interesting variation: the colourist flats with darkest shade and then all the cuts add progressively lighter areas:
The last approach, which is closer to a digital painting approach involves a tonal paint in grey. Basically, you decide where the lights and shadows go, and then apply the local colour and overlay that colour on the tonal paint.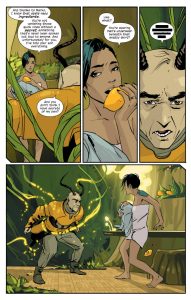 I feel like I got a fair bit better at colouring, especially in the second term, but I still want to keep developing my skill. I'm particularly interested in what Fiona Staples is doing with her backgrounds, where she often omits the black from the backgrounds.
I have a few other things I want to work on: line weights, backgrounds, and stuff like that. And, of course, more anatomy. So I'm probably gonna do another term of this class over the summer.
The other day I was contacted by another local area comic writer who I know from both Ty's classes and Toronto Comics. He asked if I was interested in doing some art for a story he'd written. I totally agreed, because it's fun to have projects that force me to keep getting better. It'll be a black and white book, in a "Alaskan Gold Rush" setting, so it'll be a fair bit different than anything I've done in the past. The deadlines are Really Soon, so I'm gonna be a bit busy over the next few weekends.