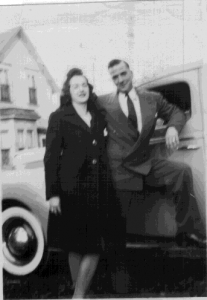 One day in the late 80s, I was back at my parents' house, between semesters at University. "I think you look like my father," my mother said, rather matter-of-factly, and somewhat out of the blue. She went off to another room of the house and came back with a cardboard stationery box that I had never seen before. Inside the box, she produced a large head shot photo of her father, Walter Dynes, for comparison purposes.
I'm pretty sure that I was in my early twenties. Until that moment, I had never heard her say a word about her father. I don't think that she ever mentioned him again.
At some point in my life, I'd come to understand that her father had died quite a long time ago, and that the person I considered to be my grandfather was, in fact, her step-father. Certainly, by the time of the great grade 7 family tree homework assignment, the details provided by my grandfather clearly spelled out the three maternal grandparents. But my bio-grandad's figure seemed to cast no shadow over my family: he wasn't talked about, no photos were out, and no stories about him were ever told. When I refer to him, I often call him my "biological grandfather" — a term that feels distant and removed. But it also feels apt because he seems distant and removed.
My father's father, Vidal Holmes, was also dead. He died shortly before I turned two. But I was aware of his absence in a way that I was never aware of Walter's absence.