On Friday, I finally started taking a crack at the genealogy info that I picked up a year and a half ago.
Here's the story. When I was in grade 7, my teacher (Mr. Cowan) gave us a homework assignment to construct a family tree. I called my grandfather (my mother's stepfather) for help with some names. He was able to pull some info together, and I was able to write out a few generations. My grandfather, however, never stopped researching after that.
That was 1978 or 1979. My grandfather died in 2007. He spent almost 30 years figuring out where the different connecting families came from and who all the descendants were. He hasn't touched the Holmeses, instead looking at his family (English Smiths and Bantams with smatterings of German lines), my grandmother's family (French Houles and Irish Kehoes) and my bio-grandfather's family (Irish Dyneses/Dineses, Nelsons and Kelleys).
After my grandfather died, no one else in the family seemed interested in this material, and it looked like it was headed for the trash bin. So I spoke up!
My grandfather did very little of his research with computers. Most of it is type-written, with family tree charts drawn on (I think) graph paper with type-written names. My grandfather was a compulsive organizer (and he was never far from his label gun), and it's clear that this stuff was a labour of love.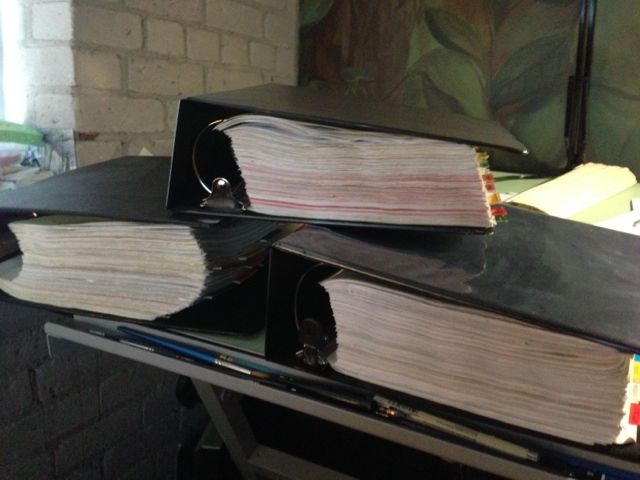 These are three of the eight books I have. Seven of those books are about the same size and one is much smaller.
I first want a scanned version of this stuff. I started some of that yesterday, and after the first 100 pages, came up with an estimate that I have 5,000-6,000 pages, here, but who knows how far off I am. Humina.
The research itself is mostly broken up into lines of the family. Each family has a section of family trees and his notes/summaries (with anecdotes here and there), followed by photocopies of any birth certificates, marriage notices, census papers, death certificates and finally photocopies of family photos (often of quite bad quality). Sometimes, he's included newspaper clippings and whatnot.
Some interesting things. Boy howdy, were a lot of my ancestors farmers, except for the Smiths who worked in the oil industry (Oil Springs, Ontario, near Sarnia was the site of the first oil rush in North America, apparently; the Smiths lived in nearby Petrolia, another oil site). And a lot of my farming ancestors seemed to have married someone who lived within a few lots of each other.
Second, I've stumbled across notes that my grandfather has addressed to me in some of the pages (I guess he still imagined that the family tree was "my thing"). Weird. Like letters from beyond the grave.
Lastly, because he's never computerized any of it, I think a lot of his research hasn't found its way onto sites like Ancestry.com or FamilySearch.org.
I'm only just starting to digitize this stuff, but it's gonna take me a long, long time.