Are these two Violas the same Viola?
There's a distant bunch of Bantam relatives who went off to live in Kansas. It starts with the family of John Sylvester Bantam, who moved from the Bantam homestead in Port Rowan, Ontario to Norton County, Kansas. John has a son Gilbert ("Gilley") and Gilley has a son, Harold John Bantam, born 21 Apr 1907. According to Don's notes, Harold married a woman named Viola. Don doesn't know Viola's maiden name.
(I've just reviewed his notes, now, and noticed something that I had recorded incorrectly: I had Harold listed as the father of Viola's two children, Jerome and Carolyn, but Don is clear that the two children were from an earlier marriage).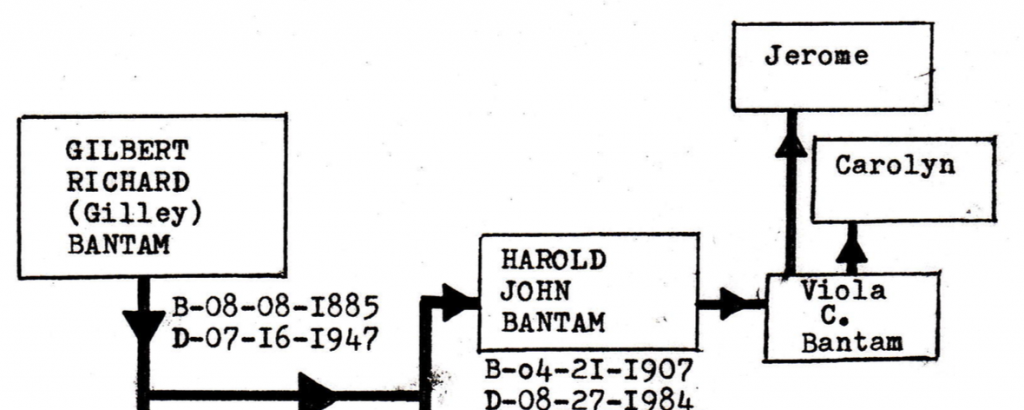 So I went spelunking on Ancestry to find out more information about Viola. The suggested hints that I've found aren't entirely clear on the topic, but there are two dominant stories. The first is that, according to some sources, Viola's name is Viola C. Lamb. The primary sources for this are some other folks' Ancestry records, and a reference to a headstone-recording website. That website is telling me that Viola's name was Lamb (but that doesn't appear to be data on the actual headstone). I'm guessing that the other Ancestry users picked up that name from that website. Many of these websites are transcribed and maintained by genealogy societies, and they may bring other sources to bear to flesh out the data, but it's not clear where the name "Lamb" originates. Her headstone says that she was born on 16 Sep, 1910. Her headstone is shared with Harold, so this is clearly "my" Viola.

The other dominant story is that of Viola C. A. Hall. This Viola has a bit more of a story: the 1920 census places her in the School for the Deaf in Olathe, Kansas at the age of 9 (approx. birth year, 1911). Someone has added a few newspaper clippings to this Viola: she apparently married Jesse Lamm on January 13th, 1932 (although the year isn't referenced in the clipping, the other user has added a marriage entry with the full date). The clipping describes her as "from Salina" (although a different clipping says that she's from Solomon) and says that "the bride is a stranger in this vicinity" but her new husband, Jesse, was well-known as having lived with his sister and his sister's husband (Mr. and Mrs. Harlan McReynolds). Another clipping says that "Mr. and Mrs. Lamm became acquainted with with each other while attending the school for the deaf and [mute] in Olathe, Kans." and that Mrs. McReynolds acted as an interpreter for the judge, "this being his first marriage of deaf and [mute] people".
Jesse's story is a tragic one. After marriage, Jesse and Viola went to live on his father's farm. According to neighbours, the father was mean and abusive. During an altercation on 23 Nov, 1939, Jesse grabbed a 22-calibre rifle to defend himself. Jesse didn't fire the rifle, but instead hit his father with it; nonetheless, the father died within a few hours. Jesse was required to stand trial, and even though the neighbourhood supported Jesse, Jesse seemed to feel that, as a deaf-mute, he wouldn't be able to explain his side of the case sufficiently clearly. A week before the trial, in a fit of depression, he took one of his father's shotguns and killed himself. According to a clipping, "He had stated to his brothers several times that he didn't see how he could stand the ordeal of a trial." The clipping additionally says that "the young man leaves a wife and two children."
Ancestry additionally has a reference to a U.S. Social Security Application, probably for her son (Ancestry doesn't have a scan of the application — merely a brief record of the key names). The three names listed are Jerome Alan Lamm, child of Viola C. Hall and Jesse Lamm.
I don't have an indication of when Viola Lamb married Harold Bantam, but Don is clear that it's Viola's second marriage, and that Carolyn and Jerome are children of Viola's first marriage. Don makes no reference to Viola being deaf or mute, but this family is far away in Kansas, and he's probably received all of his information about the family from snail mail correspondence. Lamm and Lamb are phonetically the same. And the two Violas were born at approximately the same time. And both have a son named Jerome. But are they the same woman? Hard to be sure, but I'd guess probably yes.