Film # 7 was called Cristo Rey, and it's kinda made around this premise: what would Romeo and Juliet look like if it was set in the modern-day in a dangerous barrio of the Dominican Republic and the impossible romance was between the sister of a Dominican drug dealer and a Haitian immigrant?
Janvier, often just referred to as "The Haitian," is the son of an undocumented Haitian mother and a Dominican father — Janvier's birth was the product of an affair, and he didn't grow up with his father. But he has a half-brother Rudy who seems to mostly be playing the role of Paris in this show. Jocelyn is the younger sister to a major drug dealer, El Bacá. El Bacá has been living and hiding out in Cristo Rey, a dangerous slum in Santo Domingo, the Domincan Republic. It happens that Jocelyn and Rudy previously dated, and although Rudy wants to resume the relationship, Jocelyn's not interested because he cheated on her.
Jocelyn is also being watched by Coronel Montilla, the local police officer who is looking to take down El Bacá. Montilla comes from the "rules? We don't need no stinkin' rules" school of policing. Meanwhile, El Bacá hires Janvier to act as a bodyguard for Jocelyn, and eventually the two are making googly-eyes at each other. Something that Rudy eventually learns. Rudy has never liked his half-brother, and plots to frame Janvier in a plan to rob El Bacá's drugs. If all goes to plan, El Bacá kills Janvier, Coronel Montilla kills El Bacá and Rudy keeps the drug money! Can Twue Wuv save them?
The film opens with some title cards, to let the audience know that Haiti and the Dominican Republic share an island, and that there are 1.2 million Haitians living in the Dominican Republic — about 80% undocumented. The film doesn't explicitly tell you about the extreme anti-Haitian sentiment that runs rife through the Dominican, but you get a sense of it from the story, itself.
I'm glad that the film doesn't feel a need to hew too closely to the original Romeo and Juliet storyline. There's betrayal and tragedy and so forth, but it isn't entirely predictable to people familiar with the play.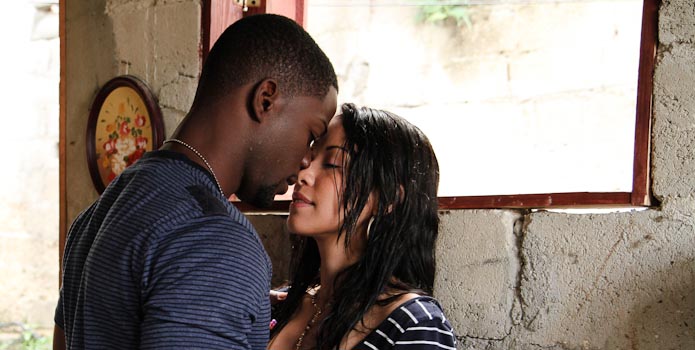 I, of course, try to find every film at the festival that has anything to do with Haiti. Some scenes were shot in Haiti — early in the film, Janvier's mother is sent back to Pòtoprens, and we get a few scenes of the post-earthquake city. But beyond that, Haiti itself doesn't figure too prominently in the film. I also found myself trying to parse all of the kreyòl whenever anyone would speak it.
The most impressive element of the film is probably is "musical" opening. The film starts with people in Cristo Rey creating music out of various day-to-day items. For example, a group of shoe-shine boys use their shoe-shine boxes as percussion instruments. Those sounds get mixed with the young girls shaking the plasic pop bottles with the rocks in them, and so forth. Beautiful opening.
And apparently the director, Leticia Tonos Paniagua, is the first female Dominican to direct a feature film. Sadly, she wasn't available for the Q&A (very, very pregnant we were told).