I'm having an email correspondence with a genealogist in Ireland. I'm looking to hire her to find records on my Holmes ancestors before they came to Canada. It's been a slow conversation, with a number of delays, but I'm hoping that something will come of it.
But today we were talking about a particular part of the tree, and while looking at my records for that part of the tree, I realized that I'd failed to transcribe some data.
Here's the story. I've mentioned before that the first of my family to come to Canada are Andrew and Susan (Susannah) Holmes, who emigrated here in 1845. I've also mentioned that Andrew died in quarantine at Grosse Île, Quebec. But they brought with them six of their seven children, who spread out and several of those kids end up in Lambton County, where I grew up.
So I'm interested in the one that stayed behind, Mary Ann Holmes, born around 1811. She was the oldest of the seven children and she was already married at the time the family moved to Canada (the second oldest, Margaret Holmes, was also married, but she brought her husband along to Canada with her). Some time before 1861, Mary Ann joined the rest of the family in Canada. Her husband, James Dowler, remained in Ireland. The author of Those Irish Holmes' writes, "'Tis said he loved the Emerald Isle, the thrill of its strife, and another woman."
Mary Ann went to Lambton County and moved in with her brother, John Holmes and his wife, Mary Wilkinson. John and Mary only had one kid, but Mary Ann brought five with her. The youngest of those five might have been born in Canada, if the censuses are to be believed. If so, either Mary Ann was pregnant on the ride over, or James Dowler wasn't the kid's father. Or the censuses are wrong. This line of the family doesn't have it easy. Mary Ann's daughter, Ann Dowler, died in the London Insane Asylum. Her older brother, Thomas, might have also spent some time there.
But, today, I was interested in some of Mary Ann's great-grandchildren. While I was talking to the Irish genealogist, I had cause to look up this part of the tree, and I realized that I overlooked some great-grandchildren. Recall that a lot of my information comes from a genealogy booklet from the early 80s: Those Irish Holmes'. Here's the interesting piece from the booklet: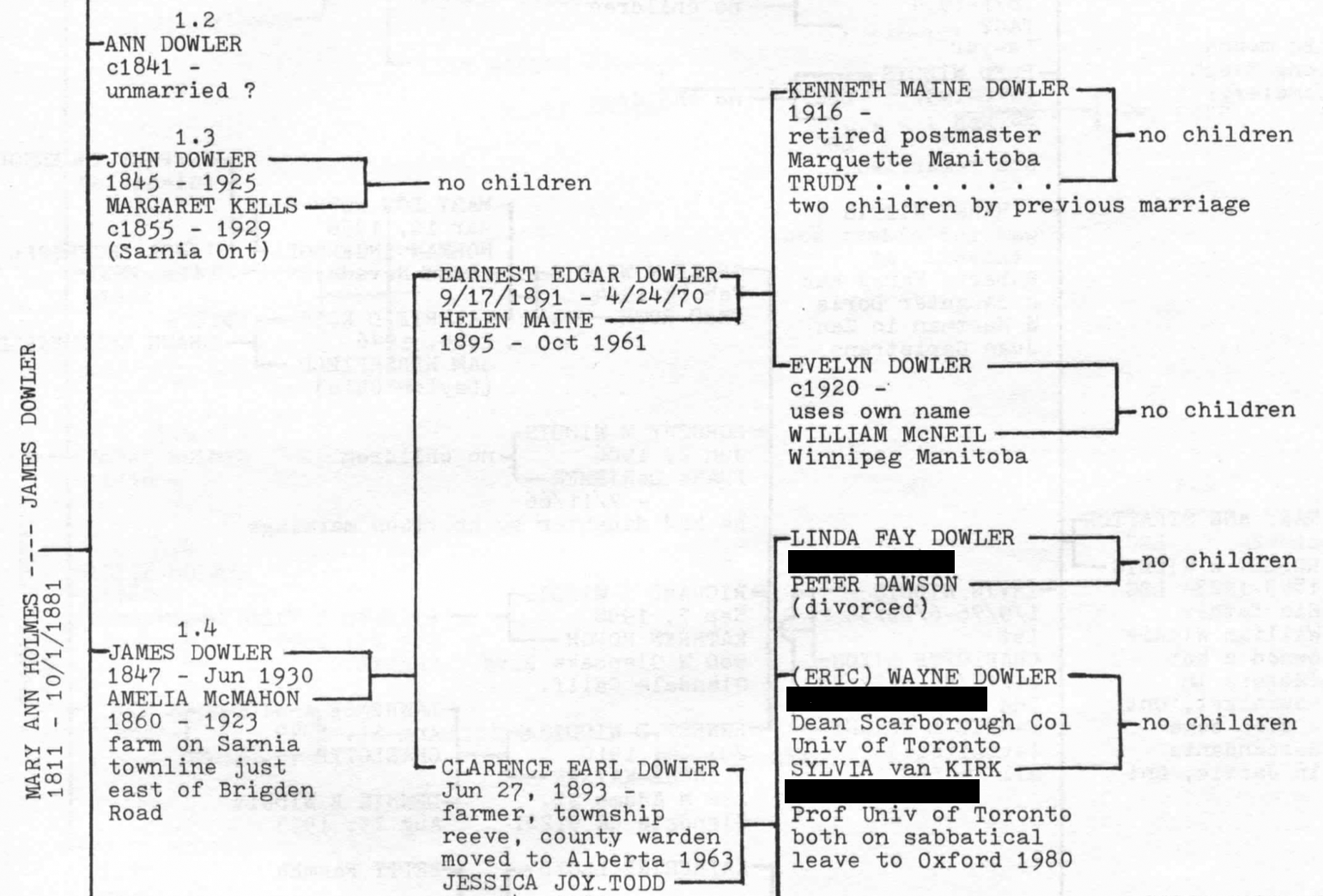 Notice the high-tech nature of the original booklet. The tree is clearly assembled with a typewriter and a felt-tip pen.
It turns out that when I was transcribing data, I missed Kenneth and Evelyn Dowler. They're not in my family tree software (I use MacFamily Tree 8). Foolish me.
I also have a copy of my family tree in Ancestry.ca. That version does have Kenneth and Evelyn, but I don't have an automatic sync between MacFamily Tree and Ancestry. It's all manual. So I transcribed them.
Whenever I transcribe people, I usually dig around on Ancestry to see if I can find out anything new about them. The Ancestry records I have for these Dowlers didn't have much additional information. The only additional piece of data that was in my Ancestry record was a year of death for Kenneth. It appears that I'd copied over a 1970 year of death from someone else's tree. Ancestry has some very clever matching going on. If it sees a lot of similarity between entries in your tree and someone else's tree, it'll prompt you to "link" the trees and copy over data. That works, so long as other people don't add mistakes to their trees. My only source for the 1970 year of death is other Ancestry trees. None of those other trees source that data. I think it's wrong; I think someone incorrectly applied Kenneth's father's year of death to Kenneth's record.
I don't have much data on Kenneth, and even less on his wife, Trudy. My Ancestry records are fairly threadbare. There are a handful of other Holmes descendants who have trees on Ancestry, and I'm used to seeing their usernames pop up whenever Ancestry is prompting me with hints. But in this case, none of these other folks had anything on them.
But there's another tool that Ancestry has: there's a generic "search" button to look for records that other people might not yet have combed through. So I tried that out.
Here's the thing, though. Kenneth was born in 1916. That means that very few of the interesting records about him are yet available. He does appear in the 1921 census, but that's the most recent census that's public because of privacy laws. I won't find marriage records or anything like that because they're too recent and the records won't be publicly available yet. With relatively recent generations, there are really three good electronic sources:
Grave markers — various genealogy organizations have transcribed grave markers and have made them available on the web
Canadian voter lists — oddly, you can find a lot of fairly recent voter lists
Online obituaries, if they exist. There's no good database of these, however.
When you're dealing with recent generations, the best source is talking to your relatives, though. Unfortunately, the Dowlers are fairly distant from my part of the tree.
So I searched on Kenneth and found him in the Canadian voting records. In the 1940 and 1957 Voter Lists, he's living in Portage, Manitoba, and appears to be single. His occupation is listed as "helper" in 1940 and "merchant" in 1957. In the 1972 Voter Lists, he's still in Portage, still a merchant, but he's recorded beside "Mrs. Kenneth Dowler" with no listed occupation. Aha! We have a tiny bit more information. Occupation, place of residence, and he's married some time between 1957 and 1972. He might even be alive in 1972, or perhaps the Voter List wasn't updated.
I've also printed out a Vital Statistics genealogy request to mail off to Manitoba. Apparently Manitoba can release birth records after 100 years, so I've asked for Kenneth's birth registration and his parent's marriage record. The marriage record should have Helen Main's parents' names (most of the Ancestry records seem to think that Helen's last name is 'Main' rather than 'Maine', as it appears in Those Irish Holmes').
The more interesting case was his sister Evelyn. Those Irish Holmes' also has little on her. But those same Voter Lists gave me a few more snippets of information. In WWII, her occupation is listed as "R.C.A.F."! She belongs to the Royal Canadian Air Force Women's Division. That's interesting. After the war, she's a postmistress (which is also interesting, given that that's a job Kenneth takes at some point). None of the standard Ancestry users has anything further.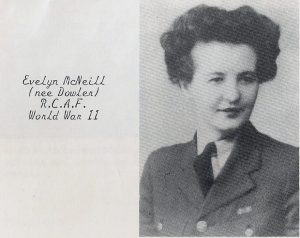 But when I use the search tool, I find a photo of her in uniform. That's interesting. Who uploaded the photo? And what record was the photo originally attached to? I find a section of a tree managed by a user I don't recognize. This new user has a lot of data about Evelyn's husband, William McNeill (it appears that Those Irish Holmes' has dropped an 'L' from the name), including a large number of photos. Like, way more than typical. Uploading a large number of photos is usually an indication that William McNeill is a close relative of the user. In this case, I've never seen this many photos added to records on Ancestry. Ironically, this new user hasn't recorded the parents of Evelyn Dowler. But it's clearly the same person, even though Ancestry can't see enough similarity between the records to automatically prompt me to link my tree.
Next thing I know, I have birth, death and marriage dates for both Evelyn Mae Isobel Dowler and William Patrick McNeill, and I have details about William's first wife, Muriel Smart. Descriptions of the photos tell me that Evelyn's nickname was Girlie. Apparently, they were Bill and Girlie McNeill. I can tell that William and Muriel had three kids, before Muriel died, but the kids must all be still alive because the entries in the other user's tree are all private (Ancestry marks "still living" relatives as private for security reasons).
But hold on, says I. Evelyn died in 2004. There's a not-bad chance that there's an online obituary for her. Sure enough. Winnipeg Free Press has a 2004 obituary that's still online. I now know names of the three step-children and their spouses, plus a bunch of names of grandchildren. The obituary also mentions that she has 18 great-grandchildren at the time of her death. It also indicates that she's survived by her brother Kenneth (and references Kenneth's wife Trudy). So it seems that Kenneth did not die in 1970, and that he was still alive in 2004.
I also know that she was into flowers, and belonged to horticultural societies in Manitoba. She was a lifetime member of the Canadian Legion. She had a dog named Mickey. And she died peacefully in her sleep.
It's interesting to me that even when you think you've found all there is to find in a particular part of the tree, there's always a little bit more.