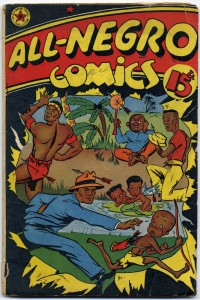 I just noticed that, last month, the Digital Comics Museum managed to get its hands on a complete copy of All-Negro Comics #1. This is an extremely rare, and fairly important comic. I wrote about this comic a few years ago on my Dreamwidth account.
As I said, the book is fairly rare. The copy that DCM is now hosting was scanned from a physical book that, it appears, was sold for about $5,400. That's nothing compared to, say, Detective Comics #27 (Batman's first appearance — one copy sold for $2.5 million). Collectors suggest that there might be fewer than 100 copies still in existence of Action Comics #1 — the first appearance of Superman. But some people think that there may be no more than 10 copies of All-Negro Comics #1 remaining. The DCM scan helps archive the material.
Sadly, as I said the last time I wrote about this book, only one issue of this title was ever published. The publisher, Orrin C. Evans was basically shut out of the comic industry when no one would sell him paper to publish the second issue.