I've written, before, about the booklet I had as a teenager: Those Irish Holmes', by F. M. Emerson Holmes. The booklet was a family tree of all the descendants of Andrew and Susan (Susannah) Holmes, who came to Canada from Cavan County, Ireland, in 1845.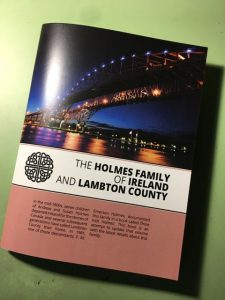 A few weeks ago, I got hit with a bit of a genealogy bug after letting it sit for a while and I started finishing up my revision to that booklet. Basically, I've tracked down almost all of the original names in the book and updated them with the latest information. Unsurprisingly, in the 35 years since the book was first published a large number of the people documented have since died, including F. M. Emerson himself.
Newer generations are harder to find the details about. Sites like Ancestry don't share details on anyone marked as still living although you can occasionally find a name in the most recent census (the Canadian 1921 census is the most recent census that's publicly-available).
As an aside: I feel like there's been an up-tick in quality on how people have been using Ancestry. Just a few years ago, it felt like a bit of a slog to pick and choose the good quality records from other people's trees; recently, I've been pleasantly surprised by how much good-quality information people have been adding. One area that's really been helpful is in regards to photos. When I started adding photos to my family tree a few years ago, it seemed at the time like photos were rare. Now I'm fascinated by the number of distant family members I find with really good-quality photos attached to them.
Also in the last few days, I've learned a few more details about a bit of a family mystery.