I've written, before, about the booklet I had as a teenager: Those Irish Holmes', by F. M. Emerson Holmes. The booklet was a family tree of all the descendants of Andrew and Susan (Susannah) Holmes, who came to Canada from Cavan County, Ireland, in 1845.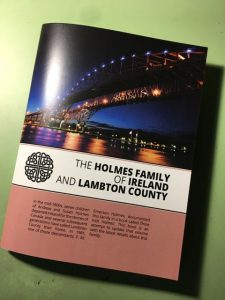 A few weeks ago, I got hit with a bit of a genealogy bug after letting it sit for a while and I started finishing up my revision to that booklet. Basically, I've tracked down almost all of the original names in the book and updated them with the latest information. Unsurprisingly, in the 35 years since the book was first published a large number of the people documented have since died, including F. M. Emerson himself.
Newer generations are harder to find the details about. Sites like Ancestry don't share details on anyone marked as still living although you can occasionally find a name in the most recent census (the Canadian 1921 census is the most recent census that's publicly-available).
As an aside: I feel like there's been an up-tick in quality on how people have been using Ancestry. Just a few years ago, it felt like a bit of a slog to pick and choose the good quality records from other people's trees; recently, I've been pleasantly surprised by how much good-quality information people have been adding. One area that's really been helpful is in regards to photos. When I started adding photos to my family tree a few years ago, it seemed at the time like photos were rare. Now I'm fascinated by the number of distant family members I find with really good-quality photos attached to them.
Also in the last few days, I've learned a few more details about a bit of a family mystery.
My grandfather documents some artifacts of a family squabble on my grandmother's side of the tree. My grandmother's mother is a Kehoe (an Anglicization of the Irish name Keogh or MacKeogh). In 1884, John Kehoe (basically, the first Kehoe in our family to come to Canada — probably in 1851) separated from his wife Bridget (Duffy) Kehoe. There was a lawsuit, and alimony was ordered. Now, recognize that this was in the late 1800s, and that the family was very Catholic. Separation was a rare thing, especially a legal separation.
Don writes:
In 1884 John and Bridget have separated, Bridget living with her son Peter and daughter-in-law Mary. John living on his farm with daughter Annie and son-in-law Alex Anderson. The family never spoke about this separation so the whys and hows are lost on this generation's deaths.
It's interesting to note that I'm directly descended from Peter and Mary, so it appears that my family was on Bridget's side of the argument.
I ended up quoting my grandfather on the John and Bridget Kehoe records of my Ancestry tree. And as a result, a few months ago, an Ancestry member (and distant cousin) contacted me and said, basically, "John had an affair and fathered a child." And, you know, adultery is one of the reasons that people separated in the 1800s, so that sounded plausible. The Ancestry member pointed me toward another cousin, Brian Anderson, another genealogy hobbyist, saying that Brian has the deets.
I reached out to Brian the other day. And the story's a bit different than what I'd been told. This latest cousin points to those Andersons mentioned above. Here's the salient part of the tree: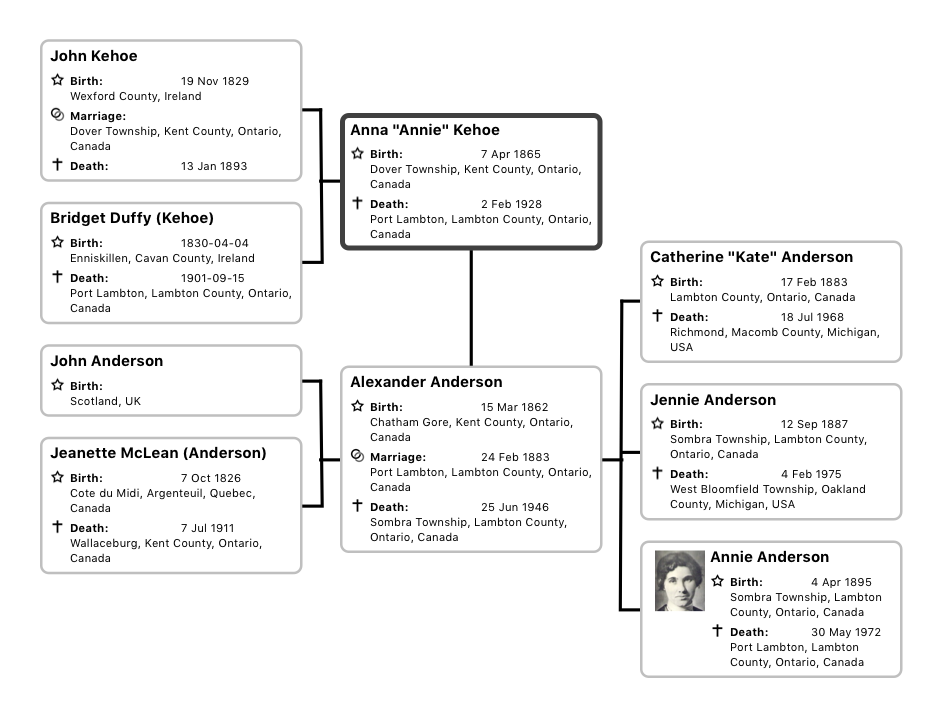 The Andersons had nine children, so this isn't a complete tree. But if you look closely at the dates, a story emerges. Annie's and Alex's first child, Catherine Anderson, was born a week before the two were married. Again: remember that the Kehoe's are very Catholic. This is basically like that Lydia/Wickham moment in Pride and Prejudice, but worse because a baby has already arrived. Now add one more wrinkle in to this story: Alex Anderson is a Protestant.
So Brian's belief is that John and Bridget separated over the scandal of Annie's first child. Since John went on to live with Annie and Alex, it seems like he supported them whereas Bridget (and, possibly, my ancestors) did not. Brian and I exchanged some documents — I had a copy of the separation agreement, and Brian had some great documents about John Kehoe. When Brian posted the separation agreement on Facebook, some other cousins chimed in with another part of the story: apparently the two Kehoe brothers (Peter and Isaac) set fire to the barn on the farm where John Kehoe and the Andersons were living.
So, y'know, I'm kind of descended from assholes.