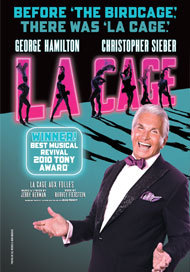 Sio and I saw La Cage aux Folles at the Royal Alex last night — it was a fun production with great costumes, fun dance numbers, and all the romp and farce that you might expect from this show. I wasn't especially happy with George Hamilton as Georges. I thought he acted the role well, and sold me on both his love for Albin and his willingness to go along with Jean-Michel's assholish request to banish Albin from meeting the future in-laws. But his singing was subpar, and he wasn't really providing any dancing. I think that Albin is clearly the more delicious role, but Georges' role, I think, requires greater subtlety. Like I said: Hamilton sold me on the acting, but I would have preferred a stronger singer. The only role more disappointing was Michael Lowney as Jean-Michel — a stiff, awkward turn as the love-struck son.
On the other hand, Christopher Sieber was wonderful as Albin — camp, funny, prima-donna-ish, and also vulnerable. Act 1 ends with Albin's number, "I am what I am", and Sieber nails it perfectly. He channels so much hurt and at the same time pride — it's an emotionally potent act closer.
I was also really fond of Jeigh Madjus as the butler/maid, Jacob.
There were a couple of scenes in the first act that felt a touch long — especially the "La Cage aux Folles" nightclub scene just prior to the Act close. The second act was far tighter (although I think Sio thought "The Best of Times is Now" just kept going on and on).
I've had the soundtrack to La Cage for twenty years, but I've never seen a production of it (but I've seen the French movie, and The Birdcage). So it was good to finally see a production. It was a good show, and I'm glad I saw it, but I still feel like it could have been stronger.